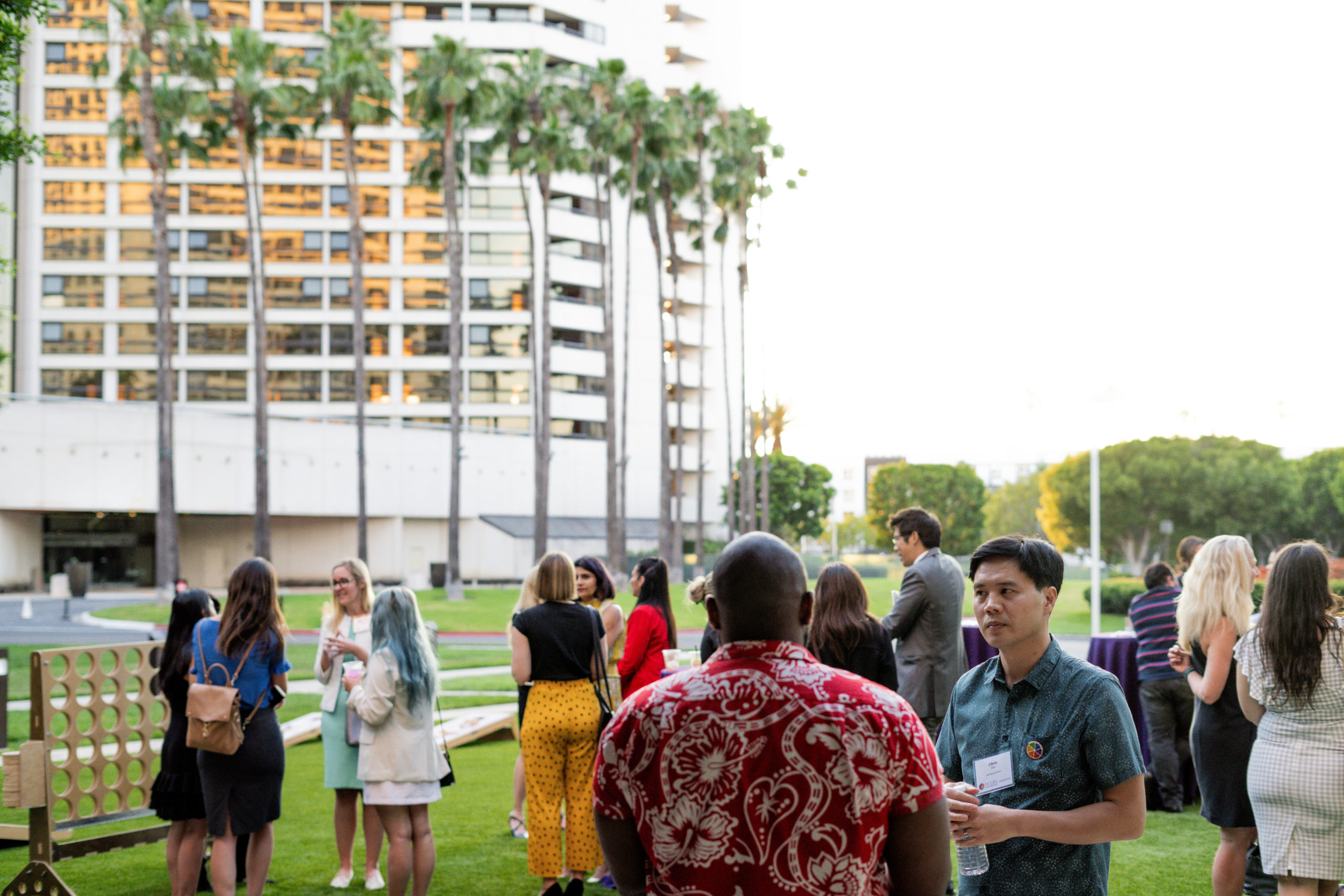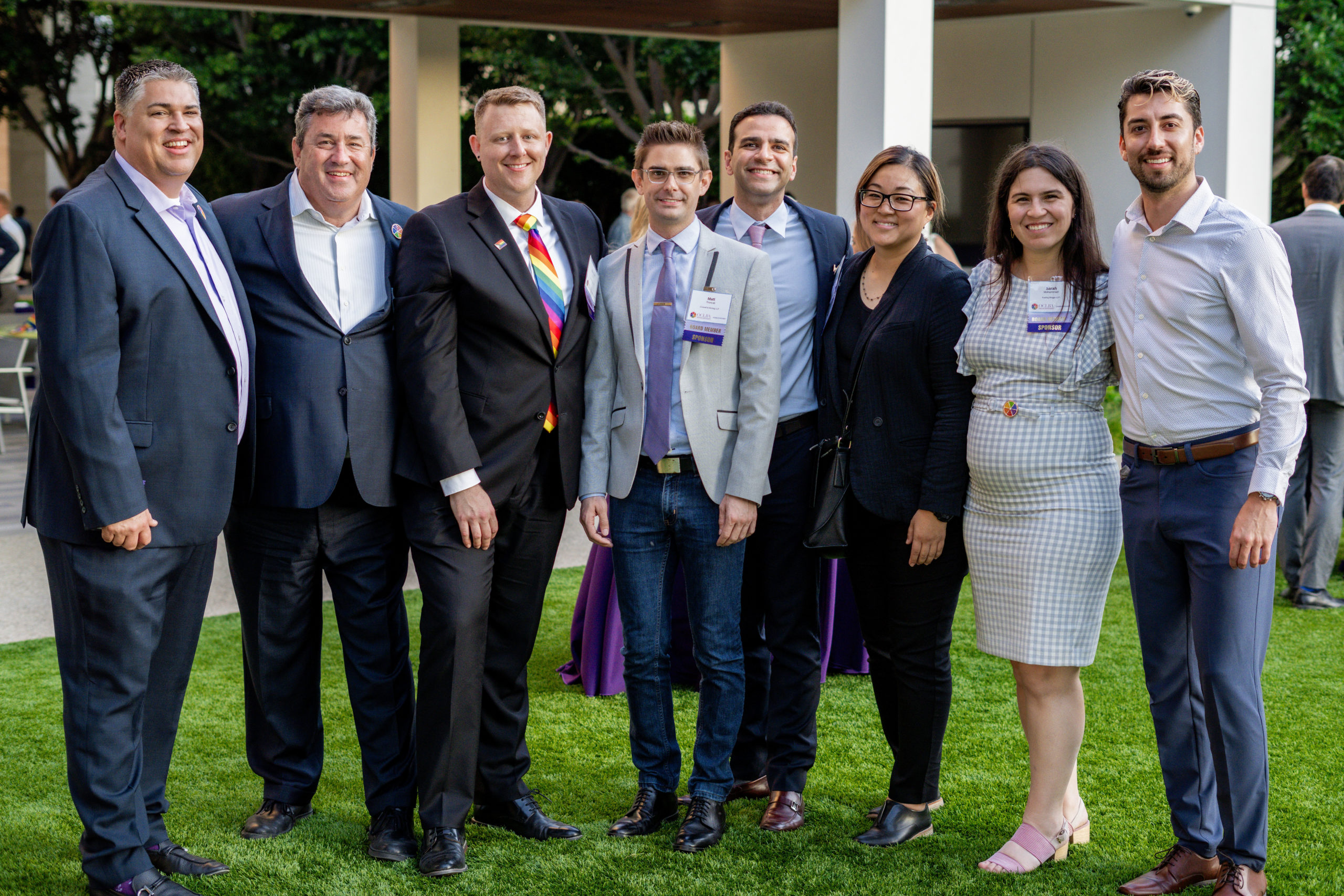 Orange County, California, LGBTQ+ nonprofit Celebrated its Thirteenth Anniversary at Park Plaza Commons in Irvine, California, on Wednesday, July 12, 2023.
July 15, 2023 – FOR IMMEDIATE RELEASE
Irvine, California – On July 12, 2023, Orange County's official LGBTQ+ bar association celebrated its 13th Anniversary in style, raising awareness of current legal challenges to the LGBTQ+ community while honoring community leaders Manatt, Phelps & Phillips LLP CEO Donna L. Wilson, and Former U.S. Representative Alan Lowenthal.
Nearly one hundred lesbian, gay, bisexual, transgender, queer, and allied attorneys, law students, and judges, along with allied friends, family, community, and business partners, gathered in the shade of Park Plaza Commons in Irvine this past Wednesday to celebrate LGBTQ+ equality, inclusion, and advancement.
OCLBA awarded its 2023 Community Leadership Award to CEO and Managing Partner of Manatt, Phelps, & Phillips, LLP Donna L. Wilson. Wilson is only one of two openly gay female managing partners of major law firms in the U.S. Wilson was honored for her efforts at inclusivity and diversity during her career. OCLBA Board Member and President Michael E. Olsen said of Wilson, "she is an authentic leader, a trailblazer in her own right as an openly gay leader with a family, who shows up every day as herself, and she understands what it is like to come from a marginalized group and a different background than many lawyers." Wilson was present with her daughter, who is off to the University of Virginia for college in the fall. Wilson said that "it is about inclusivity and when the chips are down as they have been lately, that we keep pushing" forward as a community.
Olsen also discussed OCLBA's educational programs, scholarships, and pro bono programs while discussing the mounting legal challenges facing the LGBTQ+ community. Olsen said that sponsorships and individual annual membership to OCLBA are "critical in supporting OCLBA's mission of promoting LGBTQ+ equality and visibility in Orange County and throughout the nation." Olsen highlighted some of OCLBA's achievements and events in 2022-2023, including its ongoing operation of the Transgender Legal Assistance Clinic ("TLAC") at the OC LGBTQ Center, providing pro bono assistance to over 220 gender-nonconforming, nonbinary, and transgender youth and adults seeking to obtain name and gender marker changes throughout the state of California. Olsen also announced that OCLBA has formed a need-based fellowship program to grant up to $1,000 to individual OC-based law students committed to LGBTQ+ equality to attend conferences and engage in pro bono services nationwide.
With the assistance of OCLBA's new fellowship, TLAC student leader Jean Selep, a 3L at the University of California, Irvine, School of Law, traveled to Texas with OCLBA Treasurer Stephen Hicklin to present on how to start and operate a similar clinic. The panel was presented to a standing-room-only crowd of seventy attorneys nationwide at the ABA's Equal Justice Conference. OCLBA's fellowship permitted Selep to attend the entire three-day conference.
OCLBA Board Member Bijan Mohseni introduced Congressman Alan Lowenthal as the recipient of OCLBA's prestigious Katherine B. Darmer Community Service Award. The award, named in memory of the late Katherine Darmer, a founding member of the OCLBA, recognizes individuals and organizations who make extraordinary contributions to advancing LGBT equality. Mohseni said that Lowenthal has been "a tireless champion of human rights and equality of the LGBTQ+ community." Representative Lowenthal was a five-term Congressman, first elected to the House of Representatives in 2012, representing California's 47th District, encompassing portions of Los Angeles and Orange Counties. Congressman Alan Lowenthal spoke regarding his extensive career and efforts in Congress to protect LGBTQ+ rights, including initiatives to protect LGBTQ+ rights locally and abroad.
During his remarks, Olsen emphasized the need for the LGBTQ+ community and allies to "refocus and redouble our efforts . . .because of the unprecedented proliferation of anti-LGBTQ+ efforts nationwide since January 1, 2023." Olsen stated that "the Supreme Court's decision in 303 Creative LLC, created a constitutional right to refuse services to gays and lesbians, and just since January 1, 2023, over 500 anti-LGTBQ+ bills were introduced across the United States, including 70 which have been enacted into law by local and state legislatures including 15 laws banning gender-affirming care." Olsen said that these laws are "repackaged" and sold under a
 "well-worn playbook" premised on unfounded fears of harm to children and society. Olsen called on the LGBTQ+ community to act.
Make no mistake—these are efforts to erase our identities, silence us, and once again relegate us to second-class status.  In truth, we only need to fear silence because we counter fear with fact by telling our truths through our stories, the annual Harvey Milk Day Luncheon, and pro bono work.  I hope OCLBA can expand our work to include amicus work so desperately needed across the U.S.  
This year's anniversary party was presented by Platinum Sponsor Kading Briggs, Gold Sponsors Crowell & Moring, LLP, and U.S. Bank, Silver Sponsors Knobbe Martens, Gibson Dunn, and K&L Gates, and Champion Sponsors Aitken*Aitken*Cohn, The Hicklin Firm, Jones Day, Manatt, Phelps & Phillips, LLP, Procopio, and Morgan Lewis. Ally Sponsors were Spinnaker Investment Group, J.P. Morgan Private Bank, Orange County Coalition for Diversity in the Law, Latham & Watkins LLP, and Hatch Henderson Fivel Legal Search.
Olsen said that OCLBA is accepting applications for its $5,000 Katherine Baird Darmer Equality Scholarship, which will be awarded in September.
The Orange County Lavender Bar Association (OCLBA) is the official association of lesbian, gay, bisexual, transgender, and allied attorneys, judges, and law students in Orange County. Founded in 2010, OCLBA produces a dynamic series of programs that connect the bar and lay communities in Orange County to advocacy, education, charity, mentorship, networking, and community-building activities that advance LGBTQ+ equality. OCLBA is an affiliate of the Orange County Bar Association. Orange County Lavender Bar Association is a 501(c)(6) nonprofit organization. For information about becoming a member or donating to our 501(c)(3) Katherine Baird Darmer Equality Scholarship fund, visit www.oclba.org.
 Contact Information: President Michael E. Olsen at or .