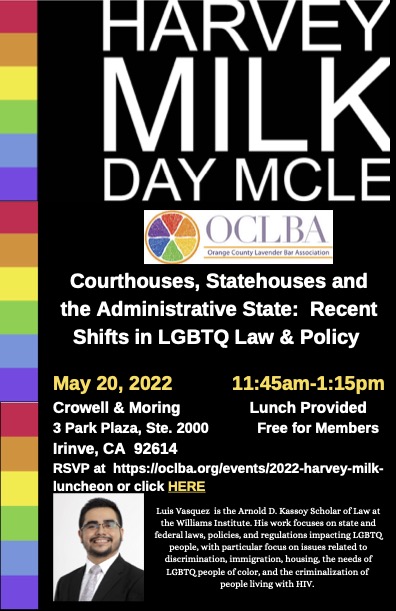 Statehouses, Courthouses, and the Administrative State: Recent Shifts in LGBTQ Law and Policy
Presented by Luis Vasquez, Williams Institute, UCLA School of Law
Free to Attend for Members
May 20, 2022 – 12:15 p.m. to 1:30 p.m.
Crowell & Moring LLP
This year's luncheon will discuss the ways in which LGBTQ law and policy has moved forward and backward over the last year.  Lunch will be provided for those able to attend in person, or join us virtually in a live broadcast of the event.  Elimination of Bias MCLE credit will be available.
Luis Vasquez is the Arnold D. Kassoy Scholar of Law at the Williams Institute. His work focuses on state and federal laws, policies, and regulations impacting LGBTQ people, with particular focus on issues related to discrimination, immigration, housing, the needs of LGBTQ people of color, and the criminalization of people living with HIV.
Note: Crowell & Moring LLP requires all office guests to be fully vaccinated (including booster shot) and to complete a basic health survey before being admitted into the office.